MACHINES POUR SACS EN PAPIER
ref:120416

HONSEL PHOENIX P26
Machine for flat and satchel paper bags for bakery, fast food and candy stores, overhauled in 2011 and 2015..
Machine inline, in production,
Reason for sale: factory closing..
Manufacturer: Honsel & CO - Made in Germany
Model: PHOENIX 26
Printer: Honsel two-color (flexo) - anolox 100 lpi
Max. print width: 700 mm
Bag length: 120-480 mm
Bag width: 60-260 mm
Speed: 300/600 bags per minute
Motor: SIEMENS 5 kw
Additional tools:
10 forming plates widths for the bag width: 85; 100; 105; 130; 140; 145; 170; 190; 230 mm
Printing Cylinders: 2x220; 2x240; 3x270; 2x320; 1x360; 2x440 mm
length Gears bags: 2x220; 2X240; 2x270; 2X320; 2x360; 2x440 mm
Size range of manufactured bags
Width -- 80-260mm
Length -- 130-470mm
Printer width -- 700mm
ref170316
SOMTAS : block bottom paper bag machine
BAG MASTER - WITH 4 COLOUR INLINE PRINTER
Produces flat & satchel bags with and without windows
7 servo motors
PLC controlled
Touch screen
Electronic tension control
Hydraulic lift unwind
Roll diameter: 1250mm
Maximum paper width: 900mm
Slitting facility
Film unwind
Hot melt gluing
4 colour inline flexo printer
Inter colour drying
Perforation
Cold glue station for length gluing
Pneumatic delivery station
Cutting length range: 200-780mm Bag length range: 170-760mm
Bag width range: 80-350mm
Gusset depth range: 12-50mm
Upto 500 bags/min speed, (depending on size, paper quality etc)
COLOURS: 4
YEAR: 2012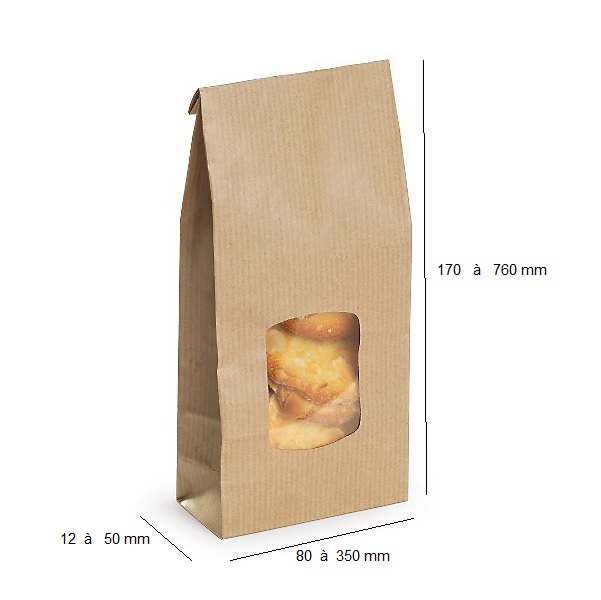 Production de sacs ou sachets avec ou sans fenetres , le systeme est equipe d'un imprimeur à 4 couleurs; 7 moteurs assistés par ordinateur à Ecran tactile. Controle de la tension se fait automatiquement en foction de la qualité du papier, enroulement -déroulement du rouleau en papier par systeme hydraulique- diametre maximale de rouleau du papier est 1200mm, Largeur maximale du papier 900mm; simple d'entretien , equipée d'un réservoir de colle et d' un système de collage automatique qui s'adapte avec le type des sacs à produire; un système peumatique est engagé pour alimenter tous verrains en service.
Longueur de coupe varie de 200 à 780mm
laissant les sacs à une longueur 170 - 760mm / largeur des Sacs 80 - 350mm
base de sacs large de 12 à 50 mm
Production peut atteindre 500 Sacs/mn selon la qualité du papier
4 couleurs
Une machine de 2012.
Baguette

10 + 6 x 38

Baguette

10 + 6 x 48

Pain

12 + 4 x 38

Pain

12 + 4 x 48

Sandwich

12 + 4 x 34

Tourte

27 + 8 x 34
réf: 070715

W&H -
block bottom paper bag machine
bag width : 75-190 mm
tube cut off length : 180-470 mm
gusset bottom size 42_110 mm
flexo print unit : no
photocell control system
2 ply
TYPE:
TRIUMPH 2

W&H machine à sacs en papier(2Plies) à base fermée
Type : TRIUMPH 2
Largeur de sacs 75 à 190mm
Longueur de coupe de tube 180 à 470mm
Base de sac 42 - 110mm
Pas d'imprimeur
systeme controlé par photocellule
ref:cf030715 /55218




BRAND/O.E.M.: W&H
MACHINERY: block bottom paper bag machine
TYPE: TRIUMPH 2
- With double unwind stand
- Maximum web width: 640mm
- Bag width: 75mm-190mm
- Cut of length: 180 mm-460mm
- Bottom width: 42 mm-110mm
- Mechanical speed: 200bags/min
- Printing station inline 3 colour, 650mm width
- Transversal gluing unit for 2 ply bags
- New photocell mechanical for cut in register, new electrical cabinet, new raster shafts
- Plates: 80, 100, 115, 120, 140, 150, 160
- 2 ply bags: paper + PE/PP or foil
- fully renovated 2013
YEAR: 1964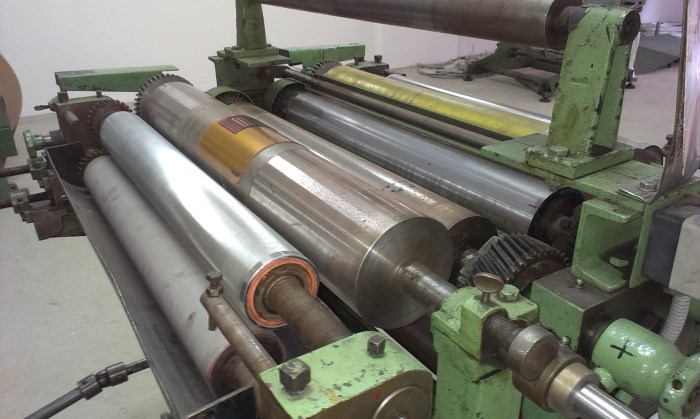 ref:cf300615
MACHINERY: block bottom paper bag machine

;

Brand : NEWLONG
TYPE: 118T
2 ply.
With 4 col. in-line flexographic printer. Max working width: 910 mm. Max unwind dia.: 1200 mm. Bag widths: 150-280 mm. Cut off lengths: 350-640 mm. Max mech. speed: approx. 200 bags/min. Tube widths: 150-280 mm. Tube lengths: 350-600 mm. Bottom width: 60-160 mm. Finished bag lengths: 280-530 mm. Forming plates: 220, 240 and 260mm. Gears: 370, 400, 440, 520, 620mm. Print cylinders: no. 4 x (350, 380, 420, 500, 520, 600mm ) and no. 2 x 620mm. With no. 4 anilox rolls and no. 2 ceramic rolls. Motor power: 5,5 Kw. Machine net weight: approx. 8.8 tons.
YEAR: 1984
ref:cf250615

Block bottom paper bag machine
BRAND: F&K /

TYPE: COMBI 0
Machine F&K , type COMBI 0
machine Sert à produire des sacs en papier à fond plat (1seule plie de papier-1ply SOS paper bag) , équipée d'un systeme d'impression à 4 couleurs (in-line W+H type QMS 992 flexo), d'un système de coupe à 2lames. Largeur de sacs de 50 à 120 mm; Longueur de coupe(hauteur de sacs) de 120 à 360 mm, largeur de la base des sacs
allant de 25 à 75 mm. production de 275 sacs/min.et peut atteindre Max speed: 275 bags/min.
for 1 ply SOS paper bags. With 4 color in-line W+H type QMS 992 flexo approx 1975 with 2 doctor blades + 4x120 anilox rolls. Bag widths: 50-120 mm. Cutting lenghts: 120-360 mm. Bottom widths: 25-75 mm. Max speed: 275 bags/min. With fully automatic NOVATECH (nowadays Holweg) packing unit for boxing the bags for bag widths from 90 to 120 mm and bag lengths from 250 to 290 mm and it can operate at the max bag production speed. Max paper web width: 400 mm. Max paper weight: 70-90 grs papers. Max reel dia.: 1200 mm. Core dia.: 70 mm. Max reel width: 400 mm. Equipped with: photocell for pre-printed reels, servo control system, slitting unit with extraction system (suction), hot-melt unit for longitudinal seam, servo drive register control (with spare motor), web cutting device for bottoms. With optical 100% monitoring bottom quality control unit. Parts: sizing sheet: 105 mm. Impression cylinders: 4x310 mm and 4 x 320 mm. Gears: 31-32.
YEAR: 2003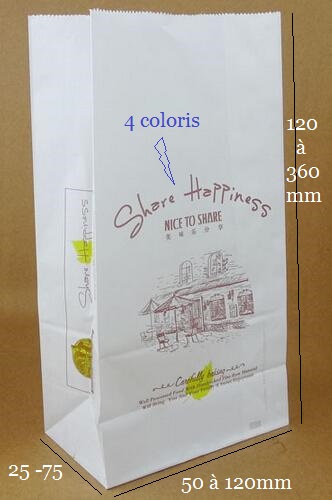 Polyethylen bottle recycling plants : Recyclage de bouteilles en PE